According to the report, about ten thousand people have disappeared and another 2300 people have died due to the severe flood that affected Libya.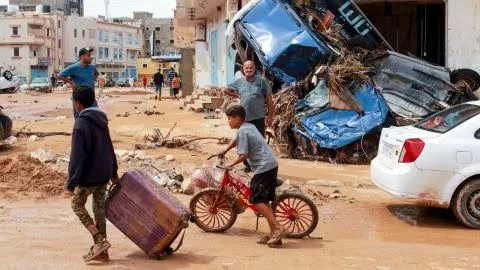 Due to the rains caused by the severe storm that swept through Libya yesterday, the country's irrigation system was unable to handle the water collected. Several dams in the country broke and a large number of people living in the vicinity were severely affected.
A large number of Libyans were caught in the severe flood that occurred after the dams broke, and those who witnessed the incident say that the flood took the form of a tsunami wave. Media reports in the country had mentioned that those who were caught in the severe flood were also seen being thrown into the sea.
The report also states that many countries, including Egypt, have come forward to help the affected people with this situation. However, the severe political crisis in Libya has also slowed down the work of rescuing and providing relief to the victims.
In the meantime, it is also reported that about a quarter of the city of Derna, which was the most affected by the flood, has been completely destroyed. Also, foreign media have reported that many bodies could be seen all over the city.