Further exacerbating the cold war between two giant social network owners, Mark Zuckerberg and Elon Musk, Musk has publicly insulted Zuckerberg as 'Zuck is a chicken' on his social network Twitter.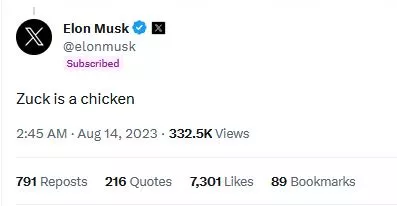 The verbal spat between Musk on Twitter (currently X) and Zack (Zuckerberg) on the Threads social network has gone from bad to worse.
However, after the insult, Zuckerberg decided to stop the cold war from continuing.
However, this dispute started after Musk acquired the social network Twitter.
It is with the recent introduction of threads, an app similar to the Twitter social network, by Zuckerberg, the owner of Meta, which owns Facebook, Instagram, and WhatsApp.
However, this 'chicken' story had emerged because of a screenshot shared by one of Musk's biographers, Walter Isaacson.
It revealed a conversation between Musk and Zack in which Musk asked Zuckerberg if he would like to do a practice match at his house next week.
Zuckerberg responded that if Musk is serious about a real MMA fight, he knows how to reach out to me and make a decision about competing.