The government has taken steps to appoint a committee to find out the problems that have arisen due to the Broadland hydroelectric project in connection with the water sport of white water rafting, which is a world-renowned sport that is being operated in Kithulgala, which is domestic and foreign tourists highly attract, and to make recommendations on possible solutions. have
The President's Secretary Mr. Saman Ekanayake, gave advice for that in the discussion held at the President's Office yesterday (23) afternoon.
The committee will be appointed comprising officials from the Ministry of Tourism and line agencies.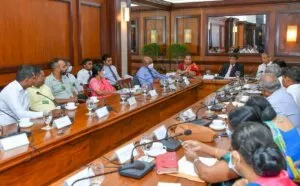 The President's Secretary also advised to conduct a field investigation on the issues presented in that regard and giving a report within two weeks.
Due to the Broadland hydroelectricity project, there has been a severe impact on the running of Kithulgala water rafting, the relevant service providers point out.
Due to this reason, their livelihoods have also been greatly affected, and they request to work for the safety of this sport, which has a great potential to earn foreign exchange for the country.
Broadland Hydropower Project Director who participated in this discussion pointed out that Kithulgala has taken steps to cooperate with the parties providing white water rafting services subject to the existing technical arrangements.
But the President's Secretary drew attention to the practical problems pointed out by the relevant service providers and instructed the officials to provide the fastest possible solutions.